Last week I was visiting a NASA exhibition in Madrid. As a usability/UX specialist, I was prepared to see complex interfaces and panels full of buttons; and they were there. But two other things related to UX were called to my attention.
First, prototypes. One of the items at the exhibition was a sequence of prototypes of the lunar module that landed on the moon during the Apollo missions.
Second, checklists. Several old-fashioned paper checklists used during space missions were shown.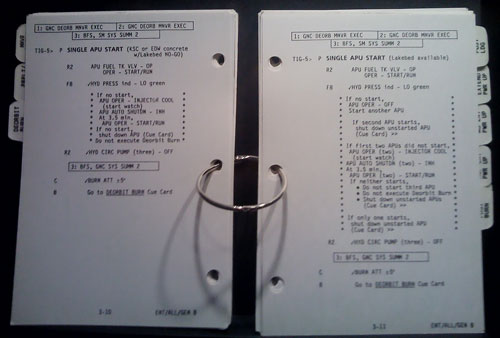 I don't know whether checklists are generally considered as a usability or user-centered design technique; anyway, I think they should. For more considerations about that technique, read the surprising and interesting book The Checklist Manifesto.
So two conclusions came to my mind:
When we talk about usability methods, it may seem that they are some kind of magic trick or very advanced technique; but most of them are simple and based upon common sense. And they have been performed during many years.
Since those kind of techniques have been performed during many years, and (most of) the missions were successful… hey, they somehow work!