Google Analytics has a nice new interface, much more intuitive and usable, but I still miss something I think it would be really usefull: an integrated calendar of events.
I can select a range of dates at Google Analytics and get different statistics: visits, unique users, etc. But there are many events (internal and external) that may affect that data. For instance:
Changes at the site: contents, layout, etc.
Changes in Google Analytics configuration (for instance, in filters)
Google Adwords campaigns linking to that site
etc, etc.
Any webmaster would be happy to know how those events are related to the statistics, wouldn't they?
How could Google do that? We already have a solution: Google Calendar. So we simply would associate a site monitorized by Google Anlytics to a calendar in Google Calendar. A webmaster could add events to that calendar, and they would be shown at Google Analytics.
Here's an example; this graph shows a decrease in the number of visits on June, 2nd: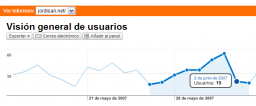 Hmmm… What happened that day? Oh, maybe that new filter to exclude inner visits. With the feature I suggest, I would link the Google Analytics account with a Google Calendar which includes events related to the site, like this:
(more…)