Interfaces – front-end – usability – UX (whatever you call them) from Mallorca

Jordi Sánchez is an Information Systems Engineer and Masters Degree in HCI.
What I write: BLOG
Latest
Popular
In English
Latest
Popular
In English
Latest
Popular
In English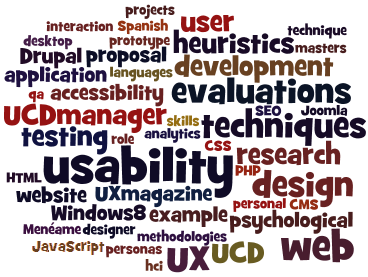 Most of my work has been confidential, but here you are some samples…
(also some code in my GitHub repositories)
Front-end
Implementation of different responsive designs for HULT International Business School using HTML, CSS and JavaScript; and integration into their CMS (Sitecore) using XML, XSLT and .NET technologies.

Web development
Entire life-cycle of some web sites, using HTML, CSS, JavaScript, PHP, customization of CMS (Joomla!; Drupal; Sitecore; …), SEO, web analytics, etc.
This personal website itself has been fully implemented by me using WordPress and responsive web design, and is hosted in an Amazon AWS hosting.
Responsive design
Definition and implementation of the responsive version of an existing Drupal theme (with some usability improvements) for AndroNautic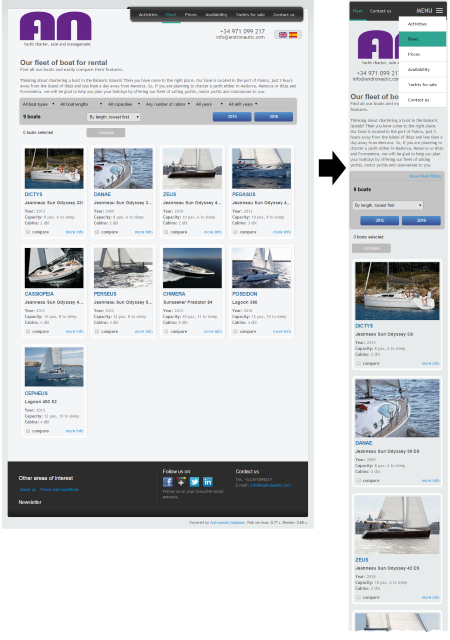 Other developments (Windows)
I try to keep my role as a developer in different environments; for example, I won a Windows 8 Summer Camp with 'Menéame', an application for Windows.

Usability evaluations
Usability evaluation of static prototypes for theBellhop, documented using UCDmanager.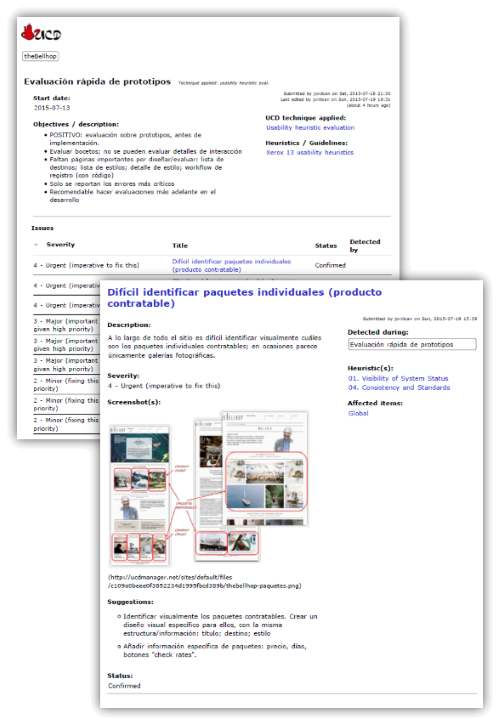 Examples of quick informal usability evaluations published on my blog:
UCDmanager
My personal project UCDmanager is a web application aimed to manage and document User-Centered Design and usability techniques, in an integrated manner: user roles, personas, heuristic evaluations, usability user testing, etc… Fully developed and maintaned by me using Drupal; includes a Windows app.
Research & dissemination
UX Magazine published my article about a proposal for a set of psychological usability heuristics, which includes a spreadsheet to apply them on real evaluations.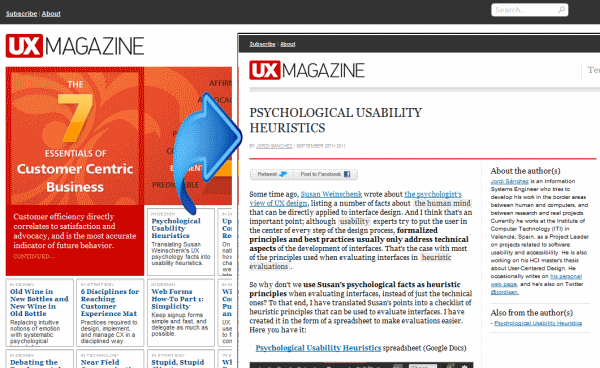 The Spanish magazine "No Solo Usabilidad" published my article about the real meaning of User-Centered Design: En busca del Diseño Centrado en el Usuario, which also includes a proposal, this time for a more practical definition of UCD.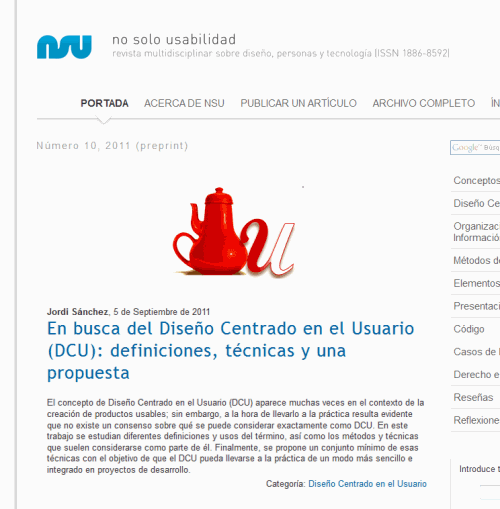 Some other proposals published on my blog trying to achieve better usability and UCD techniques:
Web accessibility
I've done several reports in order to evaluate the accessibility conformance of several websites; some of them became part of public talks I gave, like this one about the accessibility of three websites belonging to government agencies.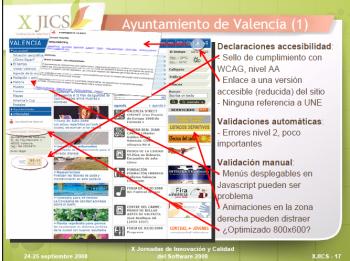 How I can help you: SERVICIOS
Definir cómo deben ser tus páginas (pantallas) o cómo mejorar las actuales

Prototipado interfaces; evaluaciones usabilidad; pruebas con usuarios; …

Posicionamiento (SEO); responsive design; multinavegador y multiplataforma; accesibilidad web; …

Programar tus interfaces

Desarrollo front-end (HTML, JavaScript, CSS); XSLT; XML; plantillas; …

Crear tu web o aplicación

CMS (Drupal, Joomla!, WordPress, Sitecore); e-commerce (PrestaShop, Open Cart); PHP; Windows 8; …

Entender mejor a tus usuarios y sus necesidades

Analítica; requisitos (casos de uso, roles y "personas"); entrevistas; …

Formar en nuevas tecnologías

Formación sobre usabilidad / UX (introducción; técnicas: prototipado, evaluaciones); accesibilidad; cursos introducción web; …