De las "preguntas acerca del viaje" o FAQ de Ryanair, algunas resulta ciertamente curiosas: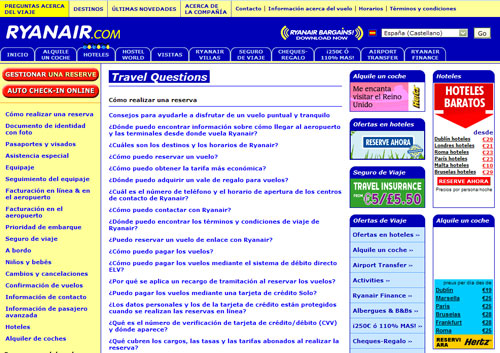 ¿Puedo llevar mi propio oxígeno a bordo?
¿Quiere decir que el avión no lleva mascarillas en caso de descompresión? ¿O es que los pasarejos más snobs no lo consideran de suficiente calidad? Leyendo la respuesta, deducimos que debe tratarse de oxígeno por motivos médicos para personas con problemas respiratorios?:
No, por razones de seguridad Ryanair no permite a los pasajeros llevar su propio oxígeno a bordo del avión. Si un pasajero necesita oxígeno durante el vuelo, debe reservarlo directamente a Ryanair el día en que efectúa la reserva del vuelo o como máximo 7 días antes del vuelo. Para reservar oxígeno, póngase en contacto con su centro de reservas local (haga clic aquí para obtener el número).Importante: Los pasajeros que necesiten oxígeno deberán traer una carta de su médico donde se declare que están en condiciones de volar y que el oxígeno que proporcionamos es el apropiado. Sin este documento, se les denegará el pasaje. Consulte la sección "¿Cómo puedo reservar oxígeno?" para obtener información adicional.
¿Puedo encargar una tarta, bombones o champán para que se le ofrezca a un pasajero en un vuelo de Ryanair (por ejemplo, por su cumpleaños)?
Vaya, eso sí que no se me había ocurrido. ¿Apagarán todas las luces? ¿Saldrá el comandante a felicitarle? Quizás con na tarifa adicional, podría aparecer una azafata de dentro de la tarta… Pero no; no es posible hacerlo, aunque parece que anteriormente sí existía esa posibilidad (!):
Desgraciadamente ya no brindamos la posibilidad de adquirir productos como botellas de champán, pasteles de cumpleaños, cajas de bombones, etc. para ofrecer a los pasajeros a bordo del avión.Por motivos de seguridad obvios, los aeropuertos tampoco pueden aceptar regalos para ofrecer a los pasajeros cuando están facturando o a bordo del avión.Nota: si se han entregado regalos envueltos a un pasajero para que los abra durante el vuelo, deberán declararse en el mostrador de facturación y pasar por los controles de seguridad, ya que pueden constituir un peligro para la seguridad.
Can I bring a Parachute?
Las siguientes preguntas aparecen en la versión en inglés de la página, y seguro que más de uno nos habíamos hecho esta anteriormente. Ya que las compañías aéreas no ofrecen paracaídas, ¿podemos llevar el nuestro propio? Pues parece que sí:
Parachutes of any type, recreational or sports type or paragliding wings (also known as 'canopy') can be accepted for carriage as checked-in or carry-on baggage subject to the standard restrictions for size and weight. These packs may contain an auxiliary or emergency 'chute' and a barometric mechanical activating (auto-release) device. These accessories are acceptable for check-in.At check-in, it must be established, that the parachute pack contains no pyrotechnics or smoke canisters- these accessories are not acceptable for carriage on our aircraft.
Can I carry my wedding dress in the aircraft cabin?
"¿Puedo llevar mi vestido de boda en la cabina?"; es de suponer que el vestido no se usará para secuestrar el avión ("comandante, ponga rumbo a Beirut o le obligo a ponerse este vestido"). La respuesta es que puede llevarse en la cabina siempre que entre dentro de las medidas estándar para el equipaje en cabina (o reservando un asiento adicional para el vestido). Aunque… ¿y si lo llevas puesto?
Each passenger is permitted to take one piece of cabin baggage on board weighing up to 10 kilos and not exceeding the maximum dimensions of 55cm x 40cm x 20cm. As long as your wedding dress fits within these dimensions when packed, you can take it into the cabin with you.We do not have any storage facilities on board to hang items or store items that exceed the above dimensions and therefore if the wedding dress does not fit within the cabin baggage dimensions, it should then be packed appropriately and checked in as part of your checked baggage allowance. Alternatively, passengers may purchase an extra seat for the carriage of a wedding dress in the cabin. To do this you should make a booking online for 2 seats and then enter the passenger name for the additional wedding dress seat as Miss EXTRA SEAT. Alternatively you can contact our reservations department to do this.

If you have purchased an extra seat please arrive at the departure gate at least 30 minutes prior to the scheduled flight departure time. Online check-in is not available when you have booked an extra seat for a wedding dress.
Otras preguntas
Otras cuestiones hacen referencia al transporte de instrumentos musicales o restos humanos… Pero aún no se responde a la cuestión fundamental: si la caja negra del avión está fabricada con un material casi indestructible, ¿por qué no se fabrica todo el avión del mismo material?