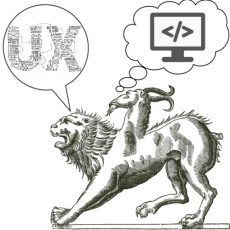 Hace ya algún tiempo escribía sobre la experiencia de tener un perfil mixto entre diseñador UX y desarrollador y cómo, a pesar de provocar cierta indefinición personal, podía aprovecharse para aplicar de manera cruzada buenas prácticas y evitar errores comunes de una disciplina en la otra. Podría decirse que se trataba de una quimera en su doble acepción, tanto en la de ser híbrido mitológico como en la de situación imaginaria (ya que parecía no ser un perfil que se demandara realmente en las organizaciones).
Por supuesto, estamos hablando de UX y de diseño de experiencia de usuario como proceso que incluye investigación de usuarios, prototipado, evaluación, etc., y no únicamente como la habilidad de "hacer pantallas bonitas".
Pensaba que me encontraba en un territorio un tanto inexplorado, pero poco después me topé con el artículo 'Why we have user experience developers at Shopify' en el que no sólo se habla de esos seres híbridos que llama UX developers, sino que se dan razones para contratarlos en tu empresa (como ellos hacen):
The UX and engineering teams are not a part of each other's process. These teams struggle to speak the same language, and handover slows each team's understanding, making it harder to challenge the other.

UX developers bridge this gap.